Harry Maguire's future at Manchester United seemed uncertain during the summer, but a newfound approach to his game has seen a resurgence in his standing at Old Trafford. Demonstrating adaptability is key.
It began with a crucial last-minute assist, securing victory against Brentford. This was followed by a standout performance, earning him the player-of-the-match title, in the game against Sheffield United.
The momentum continued with a memorable Champions League goal, a decisive header leading United to a pivotal 1-0 triumph over FC Copenhagen. Once again, the Old Trafford faithful were singing his name.
These moments mark a significant turnaround for a player who recently lost the club captaincy and was advised by head coach Erik ten Hag to contemplate his future.
.Please use Chrome browser for a more accessible video player
A spate of injuries presented Maguire with an opportunity and he has seized the opening by showing he can do what's demanded of him.
"He's playing much more proactively in possession, stepping in, passing vertically," said Ten Hag on Tuesday night. "He's defending on the front foot, defending forward, very confident in the duels.
"I think he is dominating in the right way with his aggression against opponents. You see he also gets rewarded. Of course, his heading is a skill… a very good finish."
The stats back up Ten Hag's takeaways from Maguire's performances.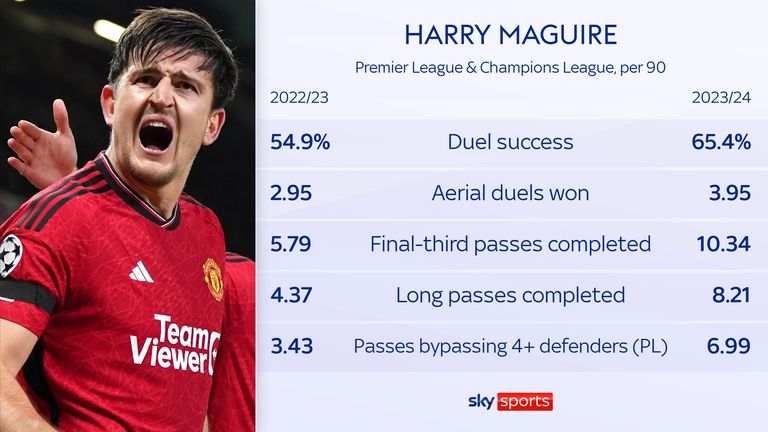 Proactive possession and passing vertically? Maguire is completing almost twice as many passes into the final third on average as he was last season. His successful long passes have nearly doubled, too.
Interestingly, in the Premier League, he is by-passing at least four defenders with almost seven passes per game on average this term. This is a defender who is looking to break lines and spark attacks when he has the ball.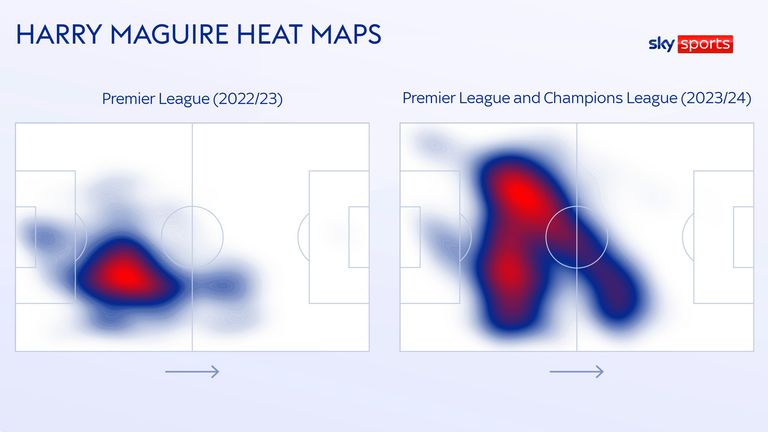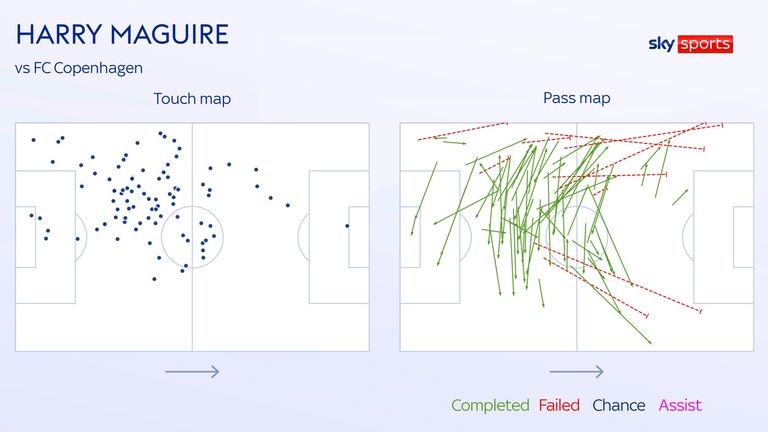 That positive approach is replicated in his defending. Ten Hag described him as 'dominating' his opponents and this season his duel success has rocketed by more than 10 per cent, while he has won 13 of his 17 aerial duels in the Premier League and Champions League.
From Maguire's last 17 starts, United have won 16 times. Critics have questioned the calibre of the opposition in some of those matches but there's no denying Maguire is having a positive impact now.
The contributions in the opposition box will grab the headlines but the substance of his overall performances could be key in shifting Ten Hag's long-term view on him.
Next up for Maguire? A certain Erling Haaland…
The next assignment for Manchester United and Maguire is a huge Premier League game against rivals Man City, also at Old Trafford, on Sunday October 29, live on Sky Sports; kick-off 3.30pm.
In The Question watch Sky Sports' Ron Walker and Ben Grounds discuss Harry Maguire's form and whether he can stop Erling Haaland and Co in the Manchester derby.

Sunday 29th October 3:00pm


Kick off 3:30pm

Visited 9 times, 1 visit(s) today