Manchester City and England defender John Stones is "out for a while" – according to Pep Guardiola – after the centre-back picked up another injury in Man City's 3-0 win over Young Boys in the Champions League.
Stones, who began this season with a hip injury and missed the first seven matches of the season, came off at half-time of City's victory over the Swiss side with a muscular problem.
City had a double injury blow on Tuesday night as Manuel Akanji injured his back in the warm-up.
Asked about the injuries, Guardiola told TNT Sports: "Manu had a problem in the back. It was blocked and I don't know what happened but he was out.
"And John felt [his injury] again. I feel so sorry for him because he's so incredibly professional and his commitment again. It is a big loss for us. John is so important for what he does but he will recover and the season is long and he will be back stronger."
Stones' recent injury history
Hamstring injury: September-October 2022: 5 games missed
Hip injury: August-October 2023 – 12 games missed
Muscular injury: November 2023 – unknown
Asked if Stones will be out for a while, Guardiola said: "Yeah I think so."
Pressed about the news in his post-match press conference, Guardiola said: "It's a muscular injury so he will be a while out. It's a pity for him, because he's an incredible professional. It's bad news for us, it's the bad news."
The news is also a blow for England, with Gareth Southgate set to name his squad for the final Euro 2024 qualifiers against Malta and North Macedonia this week.
Meanwhile, Man City have a difficult run of Premier League games which will see them face Tottenham, Liverpool, Chelsea and Aston Villa over the next four weeks.
The first game is a trip to Stamford Bridge to play Mauricio Pochettino's Chelsea, which is live on Sky Sports this weekend, with the Super Sunday kick-off at 4.30pm
Pep hopeful Akanji fit for Sunday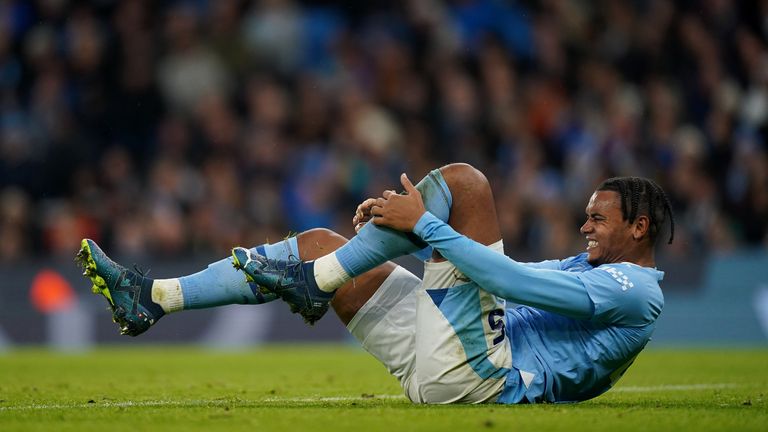 Akanji was withdrawn from the City starting line-up before kick-off, with the Swiss defender replaced by Kyle Walker in the team.
Guardiola said he is hopeful that Akanji's issue is not serious.
"It was a block in the back, he was training and there was a block. When he does this, he looks like he's 75 years old," said Guardiola in his press conference.
"And he could not play and that's why Kyle replaced him in the last moment. Hopefully it is not a big issue and he will be ready for Sunday."
Man City's next six games
November 12: Chelsea (A) – Premier League, live on Sky Sports, kick-off 4.30pm
November 25: Liverpool (H) – Premier League, live on Sky Sports, kick-off 12.30pm
November 28: RB Leipzig (H) – Champions League, kick-off 8pm
December 3: Tottenham (H) – Premier League, live on Sky Sports, kick-off 4.30pm
December 6: Aston Villa (A) – Premier League, kick-off 8.15pm
December 10: Luton Town (A) – Premier League, live on Sky Sports, kick-off 2pm
Visited 1 times, 1 visit(s) today