A unique countdown clock called 'The World on the Track' has been unveiled to mark the one year to go milestone ahead of the World Athletics Indoor Championships Belgrade22. Its role is to symbolically until the beginning of the biggest sporting event in Serbia.
The design idea is to show a map of the world on an athletics track. Belgrade, the host city, is in its centre, as a symbol for the entire athletics world heading to the city. A "clock" crowned with the logo of the World Athletics Indoor Championships Belgrade22 comes out of the athletics track. This magnificent clock is placed at Terazije Square.
Terazije Square is the central and most famous Belgrade square located between major crossroads. It was created at the beginning of the 19th century to the order of Prince Milos Obrenovic. It was named after the water tower, which played an important role in supplying the city with water, and in 1860 the Terazije fountain was installed at that place, which still adorns this Belgrade square. The most famous hotels, cafes and shops are located here and in the vicinity of the square as well as many historical and cultural sights of the city of Belgrade.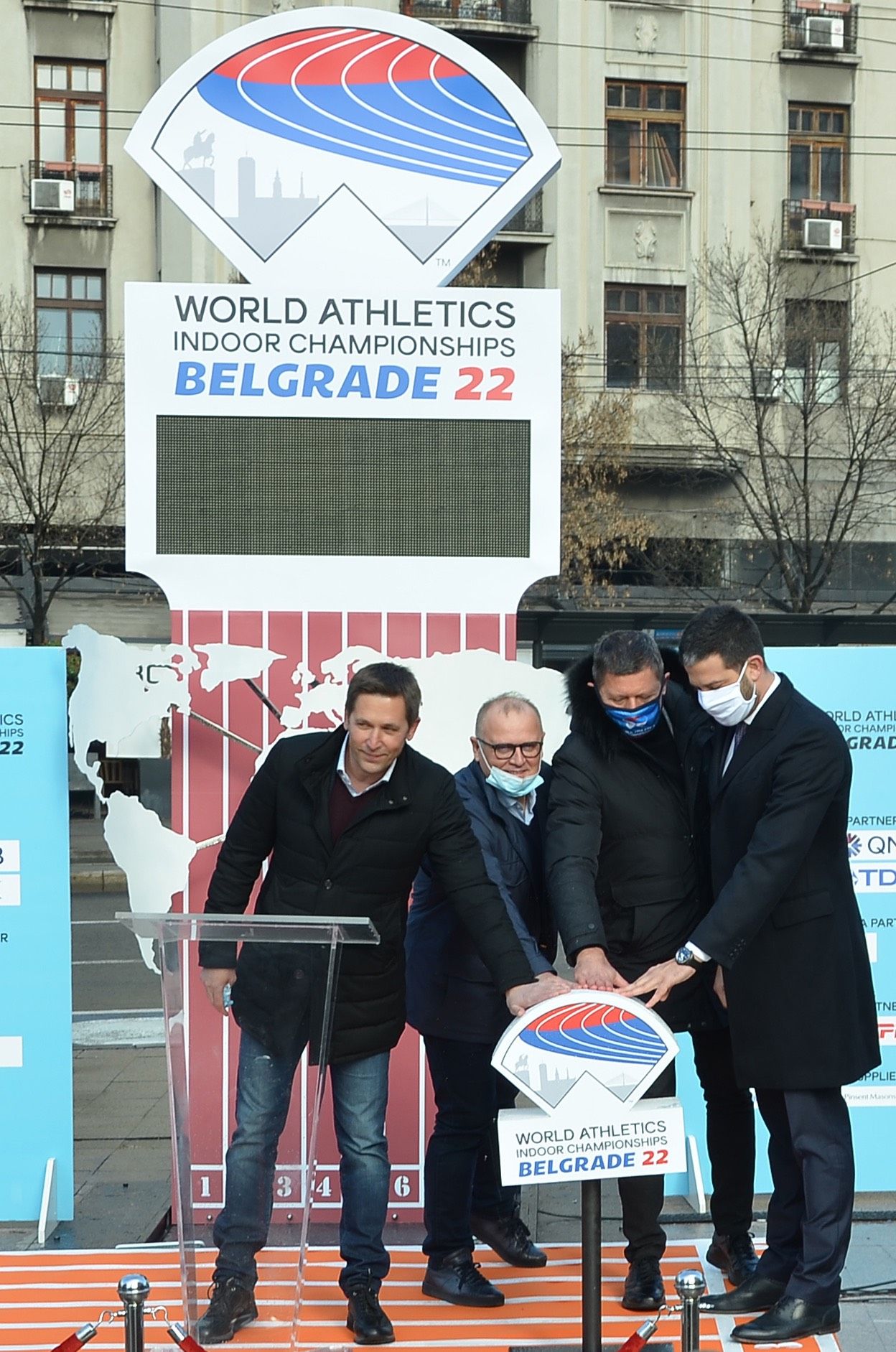 Veselin Jevrosimovic, Goran Vesic, Slobodan Brankovic and Vanja Udovicic start the countdown clock
In the official presentation of the clock on Thursday (18), the most important officials of the World Athletics Indoor Championships addressed us: President of the Local Organizing Committee Slobodan Brankovic, Deputy Mayor of Belgrade Goran Vesic, President of the Serbian Athletics Federation Veselin Jevrosimovic and Minister of Youth and Sports of Serbia and President of the Organizing Board Vanja Udovicic.
Brankovic said: "There is only one year left until the World Athletics Indoor Championships Belgrade22. I am proud that Belgrade got this clock 'The World on The Track' that counts down the time until the biggest sporting event held in Serbia. Also, today, we launched the official website of the World Athletics Indoor Championships Belgrade22 – where you can find all the information about the event we host. I invite the world to join us next year in Belgrade and celebrate athletics with us."
Vesic said: "Belgrade will be the centre of the world and the World Athletics Indoor Championships will probably be the most important sporting event of the coming year. What Mr. Jevrosimovic has done illustrates what the right people in the right place are able to do for their sport."
In his address, Jevrosimovic noted: "We are exactly 365 days away from the World Athletics Indoor Championships Belgrade22 – the biggest sporting event in our country which will be organised by the Serbian Athletics Federation. We named this clock 'The World on the Track' because in one year's time Belgrade will be in the centre of the world. I would like to thank the City of Belgrade and the Ministry of Youth and Sports for their help in staging this event."
Udovicic said: "There is one year of preparation, mutual hard work and dedication ahead of us, until we reach the goal and that is the hosting of the world athletics competition in our Serbia. I believe that we will prove, as we did many times before, that for a reason we bare the name of the best host, who goes an extra mile and that we will once again show the international sports audience that Serbia is a country of sports in every way possible."
The clock has been symbolically started by pressing the start button, thus officially began the countdown to the World Athletics Indoor Championships Belgrade22
source: world athletics